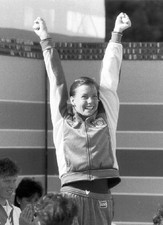 Who is Mary Wayte?
The pool is named after Mary Wayte who grew up and learned to swim on Mercer Island. She became one of the greatest female swimmers in American history winning five Olympic medals (including two gold) at the 1984 Summer Olympics in Los Angeles, CA and the 1988 Summer Olympics in Seoul South Korea.

Is the pool a public pool?
The pool is owned by the Mercer Island School District and operated by OCA and is open to the public. No membership is required

Is the pool Olympic sized?
The pool is 40 yards long with a bulkhead at 25 yards, which constitutes the distance required for high school events and United States Swimming short course distance. Olympic competition is in a 50 meter pool.

What is the water temperature?
The average is 85 Degrees F, plus or minus one degree.

Is the pool chlorinated?
Yes, the pool uses a combination of dry bleach pellets and carbon dioxide to disinfect the water and balance its Ph.

What age ranges are allowed to swim at the pool?
The pool is open for all ages. We recommend that swimmers be at least six months old prior to swimming. Swim diapers are required for children that are not potty trained. Children under 6 or less than 3'6" tall are required to have an adult in the water swimming with them.

How do I sign my kids up for swimming lessons?
You can view course schedule and sign up on-line here, call the pool front desk (206-588-1117), or stop by the pool, and our staff can help you identify the appropriate class. If your child can swim, has had lessons at another pool, or has been out of lessons for more than six months, we do a simple placement test during any of our Family swims if they are interested in participating in Riptides. We have updated our Swim School and Private Lessons policies. Also, here is a step-by-step process to enroll in private lessons.

Why do we have to fill out a Liability Waiver for swimming lessons?
OCA requires all lesson participants to have a waiver for every participant for every lesson registered. It is required by our insurance carrier.

What is the policy for inclement weather?
The pool is a Mercer Island school district facility. If school is cancelled or delayed due to weather the pool will be impacted. Please call and check the voicemail. Messages will be updated based on the weather conditions.

What age is considered a "senior"?
60

Can I donate money to support the pool?
The pool has stayed in operation due to generous support of many community members. Talk to the pool staff and they can help direct you on areas where you can help.

Can I donate re-usable clothing and household goods at the pool?
The pool has a great relationship with Northwest Center. There clothing donation bin that accepts re-usable clothing. For more information on donating other items, visit
www.bigbluetruck.org
or call 800-992-2060. Please do not leave garbage or furniture at the bins.

Can I rent the pool for a party?
Yes, the pool is available for rental on weekends for private parties. Pool staff can set up a pool party with pizza, movie rentals and music of your choice.

What kind of family activities does the pool offer?
The pool is open regularly for family swim (mostly parents and children) and public swims (good time for kids to come and play).
The pool offers Movie Nights once per month.

Does the pool have a diving board?
The pool has a 1 meter spring board which is open during high school competition only.
---
Have a question not on the list?